State Visit to Argentina and Chile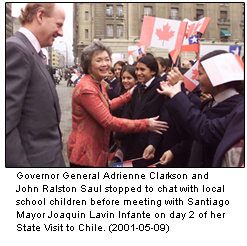 In 2000, Governor General Adrienne Clarkson accepted invitations to travel to Argentina and Chile, two nations in our own hemisphere with which Canada has enjoyed strong and growing trade and political associations and to which a Canadian Governor General has never made a State Visit.
The central theme of the visits was "Bringing People Together". This theme embodied the goal of building on the growing political and economic ties between our countries by broadening, deepening and strengthening connections that already existed in many sectors of our societies. It also symbolized the desire to create new and lasting relationships between organizations, institutions and individual leaders from diverse fields including the arts, business and science.
The Governor General was accompanied by a delegation that represented a broad cross-section of Canadian society. Delegates included writers, artists, Aboriginal leaders, scientists, parliamentarians, directors of major cultural institutions and representatives from universities, hospitals and the food, wine and agribusiness sectors. They all took part in elements of the official program that engaged leading counterparts in both countries. This exchange, through dialogue and conversation, allowed participants to learn from the sharing of each other's ideas, achievements and experiences. Through parallel programs, representatives from each sector also had opportunities for direct contact with leading Argentine and Chilean counterparts in order to continue the exchange of ideas and build new bonds both on individual and institutional levels.