Delegation for the State Visit to Europe 2008
Official Delegation
Mr. Pierre Guimond
Ambassador of Canada to the Republic of Hungary and to the Republic of Slovenia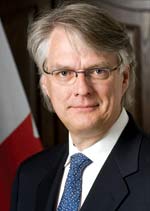 Pierre Guimond received his bachelor's in political science from the Université Laval, in 1979. Before joining External Affairs in 1987, Mr. Guimond worked as a research officer for the Quebec government's Department of Intergovernmental Affairs, as well as an information officer for the Office of the Government of Quebec in Ontario. Since becoming a foreign service officer, he has served abroad in Prague, Bonn and Vienna. At headquarters, he first served as a desk officer for the Strategic Policy Analysis Division, then for the USSR, Central and Eastern Europe Relations Division; as deputy director of the European Union Division; as executive assistant to the minister of Foreign Affairs; as director of the European Union Division; and as director of the Eastern Europe and Balkans Division. Additionally, Mr. Guimond served as an advisor to the Foreign Policy and Defence Secretariat with the Privy Council Office. Mr. Guimond is currently the ambassador of Canada to Hungary and Slovenia. He is married to Louise Parent.
Mr. Michael Calcott
Ambassador of Canada to the Czech Republic and to the Slovak Republic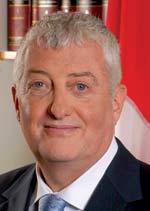 Michael Calcott graduated with a BA Honours in English and French Studies from the University of Toronto in 1972. Mr. Calcott joined the public service in 1979, and in 1993, accepted a position within Citizenship and Immigration Canada, first as director, and then as executive director, of Ministerial and Executive Services. Moving to the Treasury Board Secretariat in 1996, Mr. Calcott served as director, and then executive director, of Ministerial and Executive Services, before joining the Public Affairs Branch, becoming executive director first of Communications, and then of Communications and Executive Services. He moved to the Department of Foreign Affairs in 2003, to become the director general of the Executive Services Bureau, and also served as director general of the Canadian Foreign Service Institute. Mr. Calcott was appointed ambassador to the Czech Republic and the Slovak Republic in 2006.
Mr. Bernard St-Laurent
Deputy Secretary to the Governor General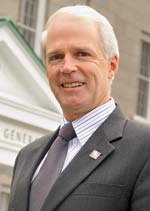 Born in Baie-Comeau, Quebec, Mr. St-Laurent enrolled in the Canadian Forces in 1971. After obtaining a Bachelor of Arts in Business Administration from Collège Militaire Royal, in Saint-Jean, Quebec, he joined the Royal 22e Régiment as an infantry officer. Mr. St-Laurent also obtained a master's degree in international public administration. During his 37 years of service with the Canadian Forces, he fulfilled a number of assignments in Germany, France and Italy. In addition, he served four years with the military counterterrorism and special forces' unit, and was director of the National Defence Command Centre. His last assignment saw him as faculty advisor to the NATO Defense College in Rome. His military career brought him twice to Government House, once as aide-de-camp to the Right Honourable Edward Schreyer, and the second time as director, Program Implementation and Security, during the mandates of the Right Honourable Roméo LeBlanc and the Right Honourable Adrienne Clarkson. Mr. St-Laurent returned to Government House in August 2007, first as senior advisor to the Secretary to the Governor General, then, in May 2008, as deputy secretary of Policy, Program and Protocol.
Mr. Robert Hage
Director General, Europe, Foreign Affairs and International Trade Canada and Principal Advisor for the Visit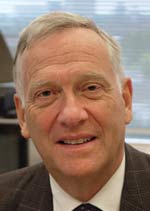 Robert Hage was born in Calgary, Alberta, and received his early education there. He is a graduate of the University of Calgary; obtained law degrees from the universities of Toronto (LL.B), and London, England (LL.M); and was called to the Alberta Bar. He also attended the École Nationale d'Administration (ENA) in Paris. Mr. Hage joined the Department of External Affairs in 1972, and subsequently served in Canadian embassies in Washington, Lagos and Paris; as deputy head of mission in the Canadian mission to the European Union in Brussels; and as ambassador to Hungary and Slovenia. With the department in Ottawa, Mr. Hage has been director of Legal Operations; director of International Financial and Investment Affairs; director for Southern Europe; director for the European Union; and director general of the Legal Affairs Bureau. He is currently director general of the Europe Bureau. He was also principal counsel for the Canada-USA Free Trade Agreement, and alternate representative for Canada to the United Nations Conference on the Law of the Sea. He and his wife, Jean, have three daughters.
Mr. Robert Peck
Chief of Protocol of Canada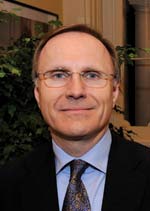 Mr. Peck is a graduate of Lindsay Place High School in Pointe Claire, Quebec, and of John Abbot College CEGEP inSainte-Anne-de-Bellevue, Quebec. As well, he holds a BA in History and Journalism from Concordia University (Montréal). Upon graduating, he served from 1981 to 1982 in the House of Commons as one of 10 parliamentary interns from across Canada. After joining the Canadian foreign service in 1982, Mr. Peck served in Ottawa, as well as at the Canadian High Commission in Lagos, Nigeria, and the Canadian Embassy in Berne, Switzerland. While at the Department of Foreign Affairs and International Trade (DFAIT) headquarters in Ottawa, Mr. Peck worked in Corporate Management, Personnel and the Media Relations Office. From 1993 to 1995, Mr. Peck served as press secretary and departmental spokesperson to two ministers of Foreign Affairs, before being posted to the Canadian Embassy in Athens, Greece, from 1994 to 1997. Mr. Peck was director of the Media Relations Office at DFAIT from 1999 to 2000. During a leave of absence from 2000 to 2002, Mr. Peck was director of Corporate Affairs and Investor Relations at aerospace leader CAE Inc., in Montréal. Upon his return to DFAIT, Mr. Peck was appointed acting director general of the African Affairs Bureau and was then named director of the West and Central Africa Division, a position he held until 2004. Until his appointment as chief of protocol in the fall of this year, Mr. Peck was Canada's ambassador to the People's Democratic Republic of Algeria, from 2004 to 2007. Mr. Peck is married and his wife, Maria Pantazi-Peck, is also a member of the Canadian foreign service.
Mr. Tom Perlmutter
Government Film Commissioner and Chairperson of the National Film Board of Canada (NFB)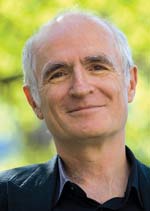 A fervent advocate of groundbreaking and socially relevant cinema, Tom Perlmutter became the 15th government film commissioner and chairperson of the National Film Board of Canada, on June 11, 2007. Since joining the NFB in 2001 as director general of the English program, Mr. Perlmutter has been one of the organization's leading ambassadors at the national and international levels. He revitalized documentary and animation programming, forged critical ties with important partners abroad, and provided greater access for up-and-coming, culturally diverse filmmakers. He has also led the NFB through major technological advances in multi-platform production. Under his aegis, the NFB has received numerous honours, including two Academy Awards®. Mr. Perlmutter enjoyed a prestigious career in the Canadian film industry before joining the NFB. As founding head of documentaries at Barna-Alper Productions, he created and produced many awardwinning features and series.
Accompanying Delegation
Dr. Constance Backhouse, C.M.
Professor of Law, University of Ottawa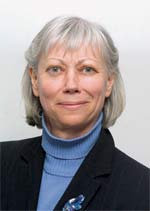 Professor Constance Backhouse is a member of the Faculty of Law at the University of Ottawa. A graduate of the University of Manitoba, Osgoode Hall Law School and Harvard University, she teaches in the areas of criminal law, human rights, legal history and feminist law. She has published a number of prize-winning books, including Petticoats and Prejudice: Women and Law in Nineteenth-Century Canada; Challenging Times: The Women's Movement in Canada and the United States; Colour-Coded: A Legal History of Racism in Canada,1900-1950; and The Heiress vs the Establishment: Mrs. Campbell's Campaign for Legal Justice. Her latest book, Carnal Crimes: Sexual Assault Law in Canada, 1900-1975, was just released. She is an expert on human rights law, sexual abuse, and violence against women and children, and is an active volunteer in the feminist community. Ms. Backhouse has received the Augusta Stowe Gullen Medal (1981), the Willard Hurst Prize (1992), the Law Society Medal (1998), the Bora Laskin Human Rights Fellowship (1999), the Jules and Gabrielle Léger Fellowship (2006), the Trudeau Fellowship (2006), the Ramon Hnatyshyn Award from the Canadian Bar Association (2006), and the Killam Prize (2008). She was made a fellow of the Royal Society of Canada in 2004, and named to the Order of Canada in 2008.
Mr. Philippe Baylaucq
Filmmaker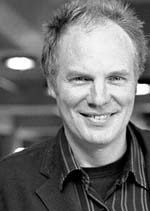 Philippe Baylaucq studied sculpture and cinema at Hornsey and Central Saint Martins College of Art and Design, in London, England. He is currently an independent movie, television and video producer, and also produces documentaries, as well as experimental and fiction films. Among his films, Lodela (1996) and Mystère B. (1997) both earned the Téléfilm Canada Award at both the 15th and 16th International Festivals of Films on Art (FIFA). Les couleurs du sang (2000), a documentary on painter André Biéler, his grandfather, was chosen by FIFA in 2001 and nominated for three Prix Gémeaux. That year, he also produced Hugo et le Dragon—a musical tale for the whole family—that was very successful. That film earned him the Téléfilm Canada Award at the Banff Mountain Film Festival and a Gémeaux in 2002 for best children's television program. In 2001, he won a Lumières award for his contribution to the advancement of the status of producers while he was president of the Association des Réalisateurs et Réalisatrices du Québec, from 1996 to 2000. In 2007, as a director/co-ordinator, he joined a collective of screenwriters to make the feature film, Et il y avait la poésie. In 2008, he produced a scientific documentary entitled, La dynamique du cerveau, and during the 11th edition of the Rencontres internationals du documentaire de Montréal (RIDM), he launched Le magicien de Kaboul, a featurelength documentary filmed in New York, Tokyo and Kabul, Afghanistan, in 2004.
Ms. Kay Blair
Executive Director, Community MicroSkills Development Centre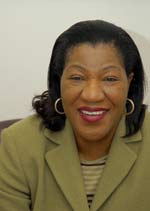 Since 1988, Kay Blair has been the executive director of the Community MicroSkills Development Centre, a community agency in the Toronto area that provides services to the unemployed, the underemployed, immigrants, low-income women and youth. Under Kay's leadership, MicroSkills has grown dramatically and is viewed as a leading agency by funders, government, the business community, clients and other service providers. Kay has initiated many innovative programs and projects, including the first Women's Enterprise & Resource Centre, the first Women's Technology Institute in Ontario, and the Dixon Youth Centre. Most recently, in North York, she launched the Centre of Excellence for Women and Newcomers, which features programs designed to enhance the leadership capacity of women and newcomers, and to accelerate their labour market participation. Kay is often consulted on issues of access, equity, and organizational and community development, and has participated in numerous task forces and public forums concerned with improving the quality of life for women, immigrants and racialized individuals. Kay frequently meets with government, the corporate world and other community agencies to discuss diversity issues and the concerns of newcomers, women, youth and other disadvantaged groups. Kay holds an MBA with a specialization in leadership from Royal Roads University, and is currently a Doctor of Education candidate at OISE/University of Toronto.
Mr. Jordan Croucher
Singer / Songwriter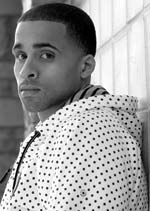 Jordan Croucher has been described as an "R & B superstar", a "soul artist" and a "natural born talent". His music reflects a collaboration of R & B and soul music, with an edge of hip hop. This Halifax-born artist, with a personal story of adventure and achievement, is now making a career out of his lifelong desire to sing. Coming out of high school, Jordan was recognized as one of the top basketball players in his region. In 2001, he was selected as a member of the national men's basketball team, representing Canada in China and fulfilling one of his lifelong dreams— to play basketball at a professional level. When he decided to return to his community to work on achieving his musical dreams, Jordan began work as a support worker with at-risk students. He set up extracurricular activities, started a mentorship program, and brought in motivational speakers and athletic trainers to stimulate and inspire youth. He recorded a CD that talked with young people about their lives, dreams and difficulties, with an underlying message of positivity and strength. In summer 2007, Jordan completed and released his debut album, No Dress Code. Since then, he has received national nominations and awards for his music, and has opened for internationally acclaimed superstars, such as Ne-Yo, Snoop Dogg, Rhianna, Nas, Kardinal Offishall, Young Buck, Juelz Santana and K-OS. In 2008, Jordan accepted the position of ambassador and spokesperson for Democracy 250, an initiative to educate youth on representative government and democracy, to promote youth voting and to recognize good citizenship. His dedication to music, as well as to his community, has made him a role model for young people everywhere.
Dr. Jack Jedwab
Executive Director, Association for Canadian Studies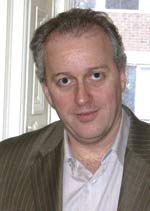 Jack Jedwab is currently the executive director of the Association for Canadian Studies (ACS) and the newly created International Association for the Study of Canada (IASC). He has served as director of the ACS since 1998. He previously served as executive director of the Quebec branch of the Canadian Jewish Congress (1994-1998). Mr. Jedwab graduated with a BA in Canadian History and a minor in Economics from McGill University, and went on to do an MA and PhD in Canadian History from Concordia University. He was a doctoral fellow of the Social Sciences and Humanities Research Council of Canada from 1982-1985. He has lectured at McGill University since 1983, in the Quebec Studies Program, the sociology and political science departments, and, more recently, at the McGill Institute for the Study of Canada, where he taught courses on official language minorities in Canada, and sports in Canada. He is the founding editor of the publications Canadian Issues, Canadian Diversity and the new Canadian Journal for Social Research. One of Canada's most-quoted researchers, Dr. Jedwab has written extensively for national media, books and scholarly journals on the issues of immigration, multiculturalism, human rights and official language minorities.
Ms. Alanna MacLennan
Program Director, Intersections Media and Founder, Projections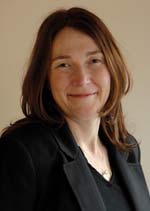 Alanna MacLennan is the founder of Projections, an innovative film- and videomentoring program for youth with limited access to resources. Launched in 2001, the goal of the project was to bring street youth together with filmmakers and artists to create short films, and in the process, to facilitate the transition of these youth into employment and education opportunities in the creative industries, and ultimately to self-sufficiency. In 2007, Projections became the anchor program for Intersections Media, the non-profit affiliate of Infinity Features Entertainment (the producer of such awardwinning feature films as Capote, and most recently, The Stone of Destiny). Projections is defined by its unique, diverse and cross-sectoral partnerships with the business, film, arts, social services, government and youth communities. Previously, Alanna worked for the National Film Board of Canada, Pacific Yukon Region, where she managed their Arts in Action youth program. She also worked with the PHS Community Services Society, where she spent four years on the development of #1 West Hastings into a multi-purpose arts space in Vancouver. She was also a managing board member of the Interurban Gallery. Her grandmother—a teacher and mentor—always said, "If you are not learning, you are not teaching." Alanna feels she learns so much on a daily basis from the amazing people with whom she works, from youth to the people who fund the projects. "It is within this premise that I work, aiming to celebrate and pursue the promise, while preparing for the challenges that each of us face."
Mr. Tom McSorley
Executive Director, Canadian Film Institute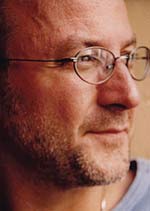 Tom McSorley is executive director of the Canadian Film Institute. He is also a sessional lecturer in Film Studies at Carleton University; a freelance film and theatre critic for CBC Radio One; the editor of Rivers of Time: The Films of Philip Hoffman (2008); and co-editor of Self Portraits: The Cinemas of Canada Since Telefilm (2006). He is the author of numerous articles and book chapters on Canadian and international cinema, and the author of a forthcoming critical study of Atom Egoyan's 1991 feature film, The Adjuster.



Mr. Patrick Nixon, C.M., A.O.E.
Chief Executive Officer, The Mustard Seed Street Ministry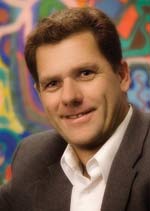 As founder and chief executive officer of The Mustard Seed Street Ministry, Pat Nixon heads one of Canada's leading ministries for the homeless and less fortunate. Born in Vancouver, British Columbia, in 1960, Pat left home at 12 years of age to escape an unhealthy home environment, leaving him on the streets, illiterate and utterly alone. Pat arrived in Calgary at age 15, and began panhandling to stay alive. One day, he was approached by men from First Baptist Church. Pat asked for money but they offered him a meal and a home. They cared for Pat for a year before he slipped back into old patterns. By age 16, Pat was in a prison for adults. Two years later, Pat returned to Calgary with renewed momentum to move forward. His new commitment and his faith empowered his determination to change. He began volunteering at an inner-city coffeehouse ministry, and at the age of 24, started a full-time street outreach and was licensed as a pastor. In 1984, The Mustard Seed was born. Under his leadership, the organization has grown into a life-changing ministry, supported by 11 000 annual volunteers, and over 200 staff, who care for over 1 200 people every day.
Ms. Fanny Wylde
Lawyer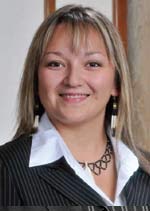 Fanny Wylde, born on April 4, 1981, in Amos, Quebec, grew up with her grandparents near the Algonquin community of Pikogan, in Abitibi-Témiscamingue. Since a very tender age, Fanny dreamed of becoming a lawyer, as she believed that the best way to help her people would be to work through the justice system. Ms. Wylde excelled and earned numerous awards during her school years. Six days after giving birth to her son, she started her first session at the CÉGEP de l'Abitibi-Témiscamingue; she later enrolled in a law degree program at Université du Québec à Montréal, and pursued her training with the Barreau du Québec. She then went back to her community, as she had promised her people. She officially became a lawyer on January 12, 2007, the first female lawyer in the history of the Algonquin People, and the first public prosecutor of the Couronne Autochtone du Québec. Ms. Wylde later worked for the Conseil de la Première Nation Abitibiwinni for a short time, and currently works for the Administration régionale crie, where she attempts to bring reform to the justice system and to implement new programs in the Quebec justice system for the benefit of the Cree Nation.