How to get to the Citadelle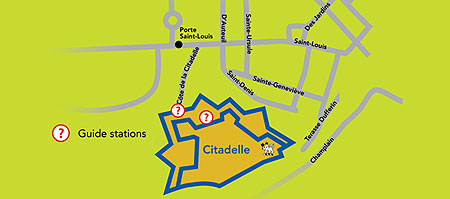 The Governor General's residence is located within the Citadelle of Québec, which sits atop Cap-Diamant. Access is via the Côte de la Citadelle, near the St. Louis gate.
Because the Citadelle is an active military base, it is only accessible to visitors when accompanied by a guide.
The schedule of activities may be changed without notice to accommodate official events.
Parking
Parking is available on site for a two-hour period. Buses are not allowed in. Bus drivers are asked to let their passengers off at the entrance of the Citadelle.
For mobility-impaired visitors, the residence can be accessed by car or mini-bus, by reservation only.
Bus drivers are asked to drop off passengers at the entrance to the Citadelle. Please allow five minutes to walk from the drop-off point to the residence.
Information
For further information, please contact us by telephone at (418) 648-4322, toll-free at 1 866 936-4422 or by email at citadelle@gg.ca
Residence of the Governor General
The Citadelle of Québec
Côte de la Citadelle (near the St. Louis gate)
Québec, Quebec Canada G1R 4V7