The Cap-aux-Diamants Redoubt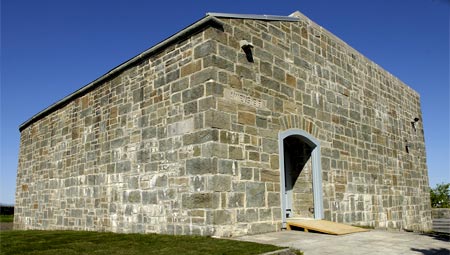 Visit one of Canada's oldest military buildings and its three magnificent vaults. The exhibits recall the history of this remarkable defence works and the origins of the oldest public office in Canada, that of the governor general. Interactive exhibits, illustrations, and audio presentation.
Don't miss Le Grand Livre de Champlain, set in a metal binding with pages two metres high, that takes us back to Samuel de Champlain's voyages to New France.
2009 Schedule
Hours for public tours:
May and June: Saturdays and Sundays, from 10 a.m. to 4 p.m.
June 24 to Labour Day: Daily, from 11:30 a.m. to 4 p.m.
September and October: Saturdays and Sundays, from 10 a.m. to 4 p.m.
The schedule of activities may change without notice to accommodate official ceremonies.
Group Tours
Groups of 10 people or more can visit at all times by reserving at 418-648-4322 or 1-866-936-4422.