John Ralston Saul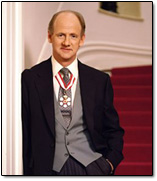 John Ralston Saul participated in many activities with the Governor General and undertook a number of his own official initiatives which were designed to encourage national debate among Canadians of all ages on issues such as bilingual education and the future of Canadian democracy.
Since 1998, John Ralston Saul brings together French immersion and francophone students from across the country for the annual French for the Future/Français pour l'avenir conference. The conference grew from a one-community event in 1997 to a cross-country forum, in 2003 linking students in twelve different cities from Vancouver to St. John's. Through video satellite technology, students were able to interact with other French immersion and francophone students from across the country to share their experiences and thoughts on being bilingual in today's society.
Through the annual LaFontaine-Baldwin Conference, that he will continue to lead every year, John Ralston Saul encourages Canadians to come together in a national debate on the future of Canada's civic culture by understanding the historical context and evolutionary nature of our democracy.
John Ralston Saul also took a lead role in promoting Canadian wines starting with the Rideau Hall cellar which was stocked with 100% Canadian VQA wine. He also led delegations of industry representatives, ambassadors from wine-producing countries and potential exporters to the annual Cuvée in Niagara-on-the-Lake, Ontario and the Okanagan Wine Festival in British Columbia. These events exposed the group to outstanding Canadian wines and encouraged excellence among vintners in Canada's two primary wine producing regions.