Commander-in-Chief of Canada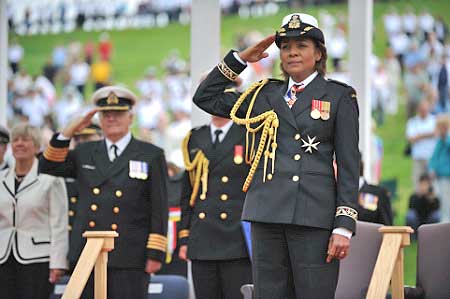 The Governor General of Canada is also Commander-in-Chief of Canada. As such, the Governor General plays a significant role in encouraging excellence and recognizing the important role of Canada's military at home and abroad.
Among these responsibilities, the Governor General:
Appoints the Chief of the Defence Staff on the recommendation of the Prime Minister;
Acts on recommendations from the Minister of National Defence regarding the appointment of Royal Colonels-in-Chief of Canadian Regiments;
Approves new military badges and insignia;
Visits Canadian Forces personnel, at home and abroad;
Presents new colours to the Canadian Forces;
Awards military Honours, such as the Order of Military Merit; Meritorious Service and Military Valour Decorations; Peacekeeping and Special Service Medals;
Signs Commission Scrolls, etc.
Upon appointment, the Commander-in-Chief receives the Canadian Forces decoration and becomes: