The Governor General's Youth Programme
Empowering Youth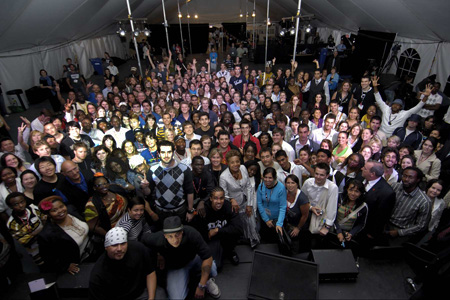 Participants in the Youth Dialogue come together for a group photo with the Governor General, the moderators, and the Canadian artists who participated in the Governor General's Youth Dialogues at the 4th World Youth Congress in Québec City. Photo: Sgt Serge Gouin, Rideau Hall.
The Philosophy
Her Excellency the Right Honourable Michaëlle Jean chose to make youth one of the focuses of her mandate. The Governor General sees her mandate as an opportunity to shed light on the incredible efforts made by young people in Canada and overseas to build a better world and to ensure their voices are heard. In this, she is working tirelessly to help foster greater ties among young people across the country and to involve other generations in their exciting and innovative endeavors.
The Approach
During her official visits to each Canadian province and territory, Her Excellency consulted with young Canadians to understand how the institution of the Governor General can be more accessible and relevant. Their recommendations served as the basis for a dynamic program that is empowering youth, and at the same time, helping to transform the institution she represents to reflect her values.
Youth Dialogues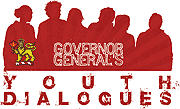 The dialogues provide young Canadians with a national voice to debate current affairs. During each dialogue, hundreds of people participate in a discussion with the Governor General. During her first youth dialogue, the Governor General spoke with close to 300 university students, senators, federal ministers and community leaders in the first-ever student forum on the abolition of slavery and anti-racism held by a Canadian governor general. Her Excellency always shares the ideas and perspectives presented during the dialogues with decision makers. For more information, visit Governor General's Youth Dialogues.
Urban Arts Forums
The Urban Arts Forums were launched to illustrate how young artists from all backgrounds are using urban arts (hip hop, graffiti, spoken word, break dancing, etc.) to combat social exclusion and crime, and to bring about change in their communities. Forums have taken place from one end of Canada to the other, as well as in Brazil and South Africa. Featuring artists, decision makers, members of the Order of Canada and civic leaders, the forums have resulted in new community initiatives, which, on more than one occasion, have encouraged entire communities to work together.
Order of Canada Mentorship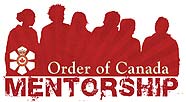 The Order of Canada Mentorship Program was established in 2008 by the Governor General to provide an opportunity for members of the Order to mentor young Canadians aged 18 to 25 in their fields of interest or in their endeavours. The one-year program brings together 25 young participants and their 25 mentors in Ottawa, followed by an online mentorship during which time participants join in live chats with the Governor General. They are also posting blogs and sharing updates on their projects on www.citizenvoices.gg.ca.
Youth interested in the 2009 program can download the application form at www.mentor2009.gg.ca. The deadline for submission is September 17, 2009.
The International Stage
The Governor General uses official and State visits overseas as opportunities to foster connections between civil society in Canada and abroad. In this, great attention is placed on ensuring that youth are well represented in each delegation. Through these visits, new partnerships and networks emerge, strengthening solidarity between peoples and civilizations.
Citizen Voices
With her husband, His Excellency Jean-Daniel Lafond, Her Excellency launched the Citizen Voices (www.citizenvoices.gg.ca) Web site that offers a place for dialogue, debate and discussion forums on the challenges facing Canadians, especially youth.
Youth as Standard Bearers
In her installation speech, the Right Honourable Michaëlle Jean expressed her wish that through her mandate, young people could become "our standard bearers". In her opinion, their unique message of hope and solidarity can help guide humanity in its quest for a better world.