The Armorial Bearings of the
Canadian Heraldic Authority
Arms and Crest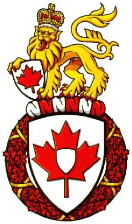 The arms and crest blend two themes: vice-regal authority for Canadian heraldry and the activity of heraldry in Canada. The dominant colours, red and white, are Canada's national colours.
The crest is a variation of the Royal Crest of Canada, emblematic of the vice-regal office. In this case, the crowned Royal Lion carries a white shield bearing a red maple leaf, symbolizing the exercise of the Queen's heraldic prerogative by the Governor General.
The nature and work of the Authority itself are represented in the shield of arms, on which Canada's red maple leaf bears a plain white shield as a sign of heraldry to be created and recorded for Canadians.
The arms and crest appear on the Authority's seal and on the letters patent documents granting and registering armorial bearings.
Full Armorial Bearings
The augmentation of the Authority's arms, which was confirmed in a Vice-Regal Warrant of January 15, 1994, was created to mark the Authority's fifth anniversary in 1993.
That year had also been designated as the International Year of the World's Indigenous Peoples by the United Nations, an event that inspired the heralds to propose as supporters "raven-bears," a new heraldic beast combining two creatures that are particularly significant in aboriginal symbolism. The colours repeat those of the arms.
The supporters stand on an outcrop of the geological formation known as the Canadian Shield, representing the solid foundations on which the Authority has been established. The rock is strewn with red maple leaves and gold maple seeds. The motto, HONORENTUR PATRIAM HONORANTES, means "Let us honour those who honour our country" and it emphasizes the nature of heraldry as an honour granted by the Crown and its status as a major component of the national honours system.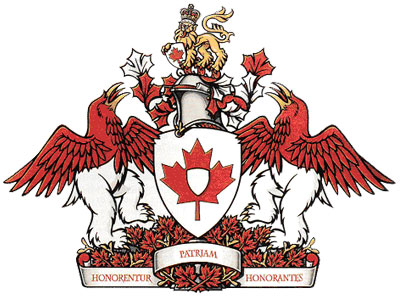 The blazon, or description in heraldic language, of the full armorial bearings is:
Arms:
Argent on a maple leaf Gules an escutcheon Argent;
Crest:
Upon a helmet mantled Gules doubled Argent within a wreath of these colours a lion passant guardant Or Royally Crowned Proper its dexter forepaw resting on an escutcheon Argent charged with a maple leaf Gules;
Motto:
HONORENTUR PATRIAM HONORANTES;
Supporters:
On a representation of an outcrop of the Canadian Shield proper strewn with maple leaves Gules and maple seeds Or two raven-bears Gules over Argent wings elevated Gules beaked and armed Or.