The Governor General's Northern Medal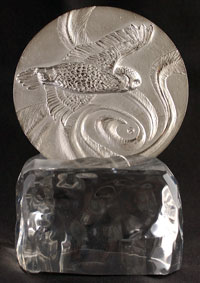 In 2005, the Right Honourable Adrienne Clarkson, Governor General of Canada, created the Governor General's Northern Medal, a medallion to be awarded annually to a citizen whose actions and achievements have contributed to the evolution and constant reaffirmation of the Canadian North as part of our national identity.
Eligibility
Canadian citizens who have made an outstanding contribution to Canada's northern communities in one or more fields; whose achievements have benefited the North; who have strengthened Canada's recognition of this region and its peoples; or who have promoted a greater awareness and understanding of the North are eligible. An advisory committee consisting of seven representatives of Aboriginal and northern communities and/or individuals who have a special expertise or knowledge of northern affairs will advise the Governor General on the award and recommend recipients.
Description of the Medallion
The snowy owl represents a watchful guardian spirit whose flight symbolizes many possibilities arising from movement in different directions. The whole North and the splendours of its unique natural phenomena are encompassed by the aurora borealis. A small Canadian Arctic Diamond refers to the North Star. The aurora radiates around the diamond illustrating the diverse possibilities and discoveries found in the region and how they enrich us all in return. The crystal base recalls an iceberg, an icon of the power and beauty of the northern land and seascape.
The medallion measures 90 mm in diameter and was designed by Cathy Bursey-Sabourin, Fraser Herald.
On the reverse, the words "Governor General's Northern Medal / La Médaille du Gouverneur général pour la nordicité" shall appear with the name of the recipient.
The Governor General's Northern Medal is not part of the Canadian Honours System.
Related Information: