Governor General's Caring Canadian Award
Volunteer Award
Background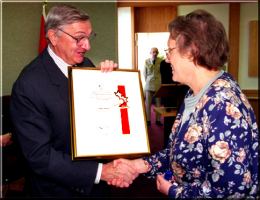 When the Right Honourable Roméo LeBlanc became Governor General of Canada, he was determined to thank the thousands of caring people who give so much to their fellow citizens, the unsung heroes who volunteer their time, their efforts and a great deal of their lives to helping others, and who ask for nothing in return.
In April 1996, the Governor General's Caring Canadian Award was created to recognize the fine example set by these special volunteers whose compassion and charitableness are such a part of the Canadian character.
This Volunteer Award honours Canadians for unpaid voluntary activities, most often behind the scenes at the community level. They have given extraordinary help or care to individuals, families or groups, or supported community service or humanitarian causes. Recipients usually have been involved in these activities for several years and normally have not been recognized with a national or provincial honour.
If you know a friend, neighbour or member of your community who deserves this unique honour, please complete a nomination form. There is no deadline for nominations and awards are announced in press releases on an ongoing basis.
Caring Canadian Award – Volunteer Award

Recognizes: involvement in voluntary activities

Description: the Award consists of a certificate and a lapel pin, which are presented to the recipients by the Governor General while travelling in Canada or by a delegate, such as a Lieutenant-Governor or a Territorial Commissioner; the maple leaf, supported by a helping hand and heart, symbolizes the people of Canada and their spirit; the heart depicts the open-heartedness of volunteers and caregivers; the hand is outstretched to represent boundless generosity