Governor General's Awards
Awards in Visual and Media Arts
News Release
Photo Gallery
Citizenvoices
Links
Performing Arts Awards

The Governor General's Performing Arts Awards are presented annually to Canadian performers whose extraordinary lifetime achievements have contributed significantly to the enrichment of Canada's cultural life. Recipients are chosen from six categories, including theatre, dance, classical music and opera, popular music, film and broadcasting.
News Release
Links
The Michener Award

Launched in 1970 under the auspices of Canada's third Canadian governor general, the late Roland Michener, the Michener Award focuses on the degree of public benefit generated by media projects, both large and small, in print and broadcast. The annual award is open to daily and weekly newspapers, news agencies, radio and television stations and networks, as well as periodicals. The winners are chosen on the basis of hard-hitting impact, journalistic professionalism, and the resources available for the project. The award is administered by the Michener Awards Foundation.
The Governor General will present the 2008 Michener Award for meritorious public service in journalism and the 2009 Michener-Deacon Fellowship during a ceremony at Rideau Hall on June 10, 2009. (News Release)
For more information, please visit the Michener Awards Foundation website.
Literary Awards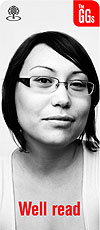 The Canada Council for the Arts presents this year's 71st edition of the Governor General's Literary Awards, Canada's oldest and most prestigious awards for English and French language Canadian literature. Laureates were honoured by the Governor General during a ceremony at Rideau Hall on December 13, 2007.
News Release
Links
Excellence in Teaching Canadian History Award
Persons Case Award
News Release
Speeches
Photo Gallery
Links
Awards for Architecture

News Release
Speeches
Links