Recipes
Bittersweet Chocolate Fudge with
Strawberries and Garden Mint.
Strawberry Salad
Serves 6
Ingredients for the chocolate fudge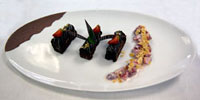 250 g bittersweet chocolate
50 g salted butter
50 g icing sugar
3 eggs
A few crushed strawberries
4 mint leaves, finely chopped
Preparation
Preheat oven to 350ºF (180ºC).
Melt the chocolate in a double boiler.
In a separate bowl, beat the egg whites with a pinch of salt to form stiff peaks. Gradually add the icing sugar and continue beating until the mixture is shiny and pliable. Add the butter in pieces to the melted chocolate and mix until well combined.
Remove chocolate mixture from the double boiler and finish by adding the egg yolks.
Working in small batches, gently fold the egg whites into the chocolate.
Stir the chopped mint into the crushed strawberries.
Coat the inside of small individual moulds with melted butter and fill the moulds half-full with the chocolate mixture.
Add two spoonfuls of the mint strawberries to the centre, then top with the remaining chocolate mixture.
Bake for 10 minutes . Cool to room temperature before serving.
Ingredients for the strawberry salad with crème fraîche
150 g (1/3 lb) strawberries
35 ml (1/8 cup) crème fraîche
15 g (1/2 oz.) sliced almonds, toasted
Preparation
Wash and slice the strawberries, mix with the crème fraîche and sprinkle with the toasted almonds.