Recipes
Chaput Bouleau Goat Cheese
and Summer Harvest Vegetables on Puff Pastry
Serves 4
Suggested Side Dish:
Emulsion of Quinoa with Herbs and Lovage Oil
Ingredients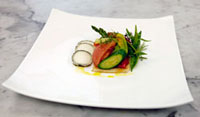 4 sheets of puff pastry
4 tomatoes
2 small chilies, mild or strong, according to taste
1/2 cucumber
2 zucchinis
8 stalks of asparagus
1 red pepper, roasted
8 kalamata olives
200 g (7 oz.) fresh Chaput Bouleau<p> goat cheese (or other variety) sliced into rounds
To taste: thyme, lemon thyme, rosemary, bay, lovage, tarragon, fresh lavender or other preferred herbs
Extra virgin olive oil
A few sprigs of chervil and chives for garnish.
Vegetable marinade
(prepare in the morning to serve that evening, if possible)
Peel and quarter tomatoes. Remove seeds.
Roast the red pepper; allow to steam wrapped in aluminum foil. Peel and remove seeds.
Thinly slice zucchini into rounds.
Peel and slice cucumber in half lengthwise. Remove seeds. Slice into sticks and blanch for one minute in boiling salted water. Immerse in ice water. Drain.
Peel and blanch asparagus for two minutes in boiling salted water. Immerse in ice water. Drain.
Finely chop chilies.
Chop kalamata olives.
Place vegetables side by side in a dish. Season with salt and pepper. Add herbs to taste. Sprinkle with chopped chilies and kalamata olives. Drizzle with olive oil, cover and allow to marinate in the refrigerator for several hours.
Preparation of puff pastry
Place the sheets of puff pastry on a non-stick baking sheet and cover with parchment paper. Cover with a metal cooling rack or another baking sheet to prevent the pastry from puffing up too much during baking. Bake in a preheated oven (400ºF/200ºC) for approximately 10 minutes. Remove the cooling rack/baking sheet and parchment paper and continue baking pastry until golden.
Assembly
Drain vegetables and place on baked pastry sheets. Top with goat cheese and warm in the oven for a few minutes prior to serving. Sprinkle with chopped chives and sprigs of chervil.
The remaining scented oil from the marinade can be used in another dish.