Wines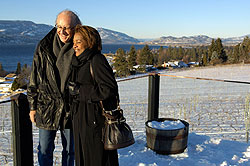 At Rideau Hall, we have a completely Canadian wine cellar. Our wines come from the Niagara Region in Ontario and the Okanagan Region in British Columbia and are Vintners Quality Alliance (VQA) approved. We are committed to showcasing the excellence of Canadian wine at Rideau Hall, at La Citadelle, at events across the country and abroad when the Governor General represents Canada on State Visits to other countries.
At every meal we serve at least one wine from Ontario and one wine from British Columbia to give our guests the opportunity to taste the similarities and the differences between the two microclimates.
Our wines with their unique balance of natural sugars and acidity are a natural match for our Canadian cuisine. Our red wines are an ideal complement to our wild game and fowl; our white wines bring out the best in our fish and shellfish and our dessert wines are the perfect accompaniment to both savoury and sweet foods.
For more information on Canadian wines and the wine industry, please feel free to consult:
Vintners Quality Alliance: www.vqaontario.com
Canadian Vintners Association: www.canadianvintners.com
Ontario Wine Council: winesofontario.org
British Columbia Wine Institute: www.winebc.com
Cool Climate Oenology and Viticulture Institute: www.brocku.ca/ccovi/index.html