Executive Chef
Louis Charest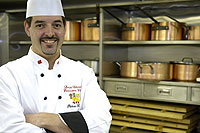 In 2007, Louis Charest accepted the position of executive chef at the Office of the Secretary to the Governor General. He is responsible for planning, managing and stocking the kitchen for all ceremonial functions and events offered by the Governor General for heads of State, members of the diplomatic corps, dignitaries, honours recipients and event participants at Rideau Hall, La Citadelle and off-site locations.
Louis Charest was born and raised in Ottawa, Canada, where he graduated with honours from the Culinary Program at Algonquin College in 1991. He completed his apprenticeship at the National Arts Centre in 1993, where he was introduced to fine cuisine on a grand scale under the tutelage of renowned chef Kurt Waldele.
By 1994, Louis had displayed his talents as a chef in several areas of the Canadian government. This included cooking for several high-ranking officials, including two governors general, prime ministers, various United Nations dignitaries, royalty and world leaders.
While working at the prime minister's residence in 1995, Louis was soon recognized as a very creative young chef and a skilled artist in the industry. It was this creativity and artistry that led him to many victories at regional and international culinary competitions. Louis has an impressive collection of medals, including the World Cup from the 1998 EXPOGAST Culinary World Cup in Luxembourg, and a Team Gold Medal from the IKA‑HOGA 2000 Culinary Olympics as a member of Culinary Team Ontario.
In 1995, Louis moved to New York City to take over the position of executive chef at the Canadian Consulate General. After his first year in New York, Louis's reputation grew quickly. Consul General George Haynal said of Louis, "Mr. Charest has established himself as a recognized chef of excellence in one of the most demanding world cities." Canadian Ambassador and Permanent Representative to the United Nations Robert R. Fowler described Louis' cuisine as "exciting, a real tour de force and an outstanding tribute to Canada."
During his stay in New York City, Chef Charest—together with other talented Canadian chefs—prepared lavish and memorable meals at the prestigious James Beard House. In 1997, Louis was recruited by the Canadian Society of New York to prepare a gala dinner for the Society's centennial ball at the illustrious Waldorf Astoria hotel.
After a short period as executive chef at the famed Ontario Club in Toronto, Chef Charest moved back to Ottawa in 2000 to cook for then governor general of Canada, the Right Honourable Adrienne Clarkson. Mr. Charest's world-class Canadian cuisine is what made him the perfect candidate for the position of executive sous-chef for Canada's top government residence. Appointed executive chef in 2007, Chef Charest's mandate is to continually improve on Rideau Hall's already impressive culinary strengths during the tenure of Her Excellency the Right Honourable Michaëlle Jean.
Louis's pride in showcasing his talent has been rewarded with 14 gold medals, three trophies, four grand gold medals, one World Cup, four silver medals and three bronze medals. This includes winning gold at the famed New York Culinary Salon; representing Canada in the World Banqueting Competition at the World Championships; winning an individual silver medal at the World Culinary Olympics in Berlin, Germany, in 1996; and earning five gold medals at the Culinary Grand Prix in Glasgow, Scotland, in 2001.