The Nation's Table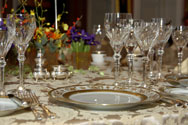 The Governor General hosts hundreds of events in the course of a year to honour Canadians from all walks of life, to recognize excellence and accomplishment as well as to receive Canadian and foreign dignitaries. Offering hospitality is a traditional way of receiving guests and an important part of the role of the Governor General and Commander-in-Chief of the Canadian Forces.
Our culinary creations are based on distinctively Canadian ingredients that are fresh, seasonal and organic. We bring products from across our northern nation together in menus that are as diverse as the people we are honouring. We want our guests to be able to travel the country in every meal they eat at Rideau Hall and at La Citadelle.
One of the most anticipated parts of any meal that we serve is the cheese course. The cheeses are made locally by artisans and cheese makers whose craftsmanship is extraordinary. When guests come to Rideau Hall and to La Citadelle, they sample cheeses from British Columbia to Nova Scotia and everywhere in between.
The wines we serve are from Canada's two primary wine producing regions – the Niagara Region in Ontario and the Okanagan Region in British Columbia. The Canadian wine industry has come into its own over the past twenty years and we are committed to showcasing the excellence and diversity of the industry in every glass we pour.
We work diligently to promote Canadian cuisine and Canadian wines.