The Ballroom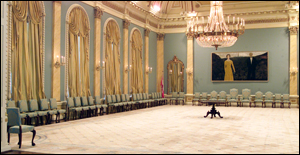 Welcome to the Ballroom. The room is empty now, but imagine it filled with honoured guests at a ceremony to recognize the achievements of outstanding Canadians from all walks of life. This is where the Governor General presents national honours and awards such as the Order of Canada, the Meritorious Service Decorations and the Decorations for Bravery.
The Prime Minister and members of the Cabinet take their oaths of office in this room as well. Ambassadors from around the world come here to present their diplomatic credentials and State dinners in the Ballroom honour visiting Heads of State.
In an alcove, stained glass windows celebrate the excellence of Canadian performing artists and the establishment of the Governor General's Performing Arts Awards which are annually presented in this room.
Click here to view the QuickTime virtual panorama.