The Pauline Vanier Room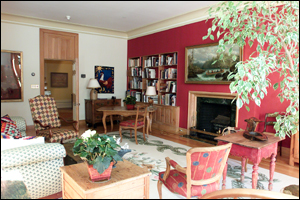 The Pauline Vanier Room is a showcase of Canada's heritage in arts and crafts. The Governor General and guests of Rideau Hall often use it as a location for media interviews.
Part of the original MacKay house, the room has had several uses since 1838. For a time, it even served as a gentlemen's smoking room.
In 1959, Madame Vanier decided to devote the space to the display of some of the best examples of Canadian decorative arts. The handcrafted furniture, both modern and antique, is of outstanding quality.
Paintings by notable Canadian artists adorn the walls. Notice, too, the wood and stone sculptures displayed on shelves and tables. A remarkable hand-hooked rug, purchased by the Canadiana Fund, covers the floor.
Click here to view the QuickTime virtual panorama.