The Large Dining Room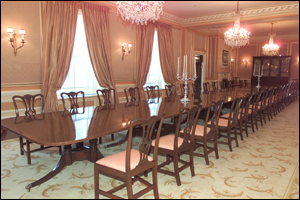 The Large Dining Room is used as a setting for formal lunches and dinners. Occasionally, if a small country is being honoured at a State Dinner and fewer guests are expected, the Large Dining Room is used to host the State Dinner in lieu of the Ballroom. The long dining table can host up to 42 guests, including Their Excellencies. Her Majesty Queen Elizabeth II has dined in the Large Dining Room while staying at Rideau Hall during her official visits to Ottawa.
The Large Dining Room was built in 1865-66. It was originally designed as a rectangular shaped room, and it was first intended for family dining as well as for official events. In 1909, the original mouldings of the room were replaced by new ones in the Edwardian style. Four years later, the Large Dining Room again underwent extensive renovations. The room was elongated, consequently changing from a rectangle to an L-shaped room. Finally, in the late 1940s, a dividing wall was constructed and the Large Dining Room was transformed into its present-day rectangular configuration.
Click here to view the QuickTime virtual panorama.