The Large Drawing Room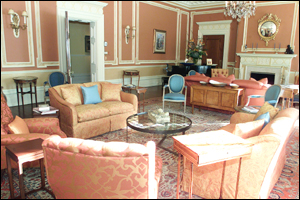 The Large Drawing Room serves as a formal gathering room for guests both before and after events. The room is also used to entertain visiting Heads of State and their suite. Previously the "Red Salon", this state room was added to the Residence in 1865-1866. In 1901, the room underwent extensive renovations. New mouldings, in the Edwardian style, replaced the original ones.
Another architectural detail of note is the low placed windows. A long time ago, residents and guests alike could step outside these windows and onto a veranda that ran the length of the Monck Wing.
During the Victorian era, women retired to the Large Drawing Room where they would take tea, sew, play music and embroider. It was also here that the family would receive guests. Since its construction, it has always been used as a reception room. The portraits chosen to embellish its walls depict women, all of whom resided at Rideau Hall during its long history as the official residence of the Governor General.
Click here to view the QuickTime virtual panorama.