The Reception Room
Vincent Massey,
Governor General 1952-1959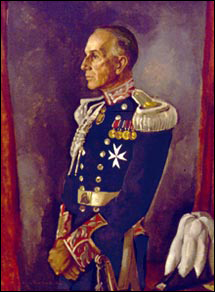 The Right Honourable Charles Vincent Massey (1887-1967) was the first Canadian Governor General of Canada. Historian, soldier and diplomat, he served as Canadian High Commissioner to London from 1935 to 1946. In 1949, he was asked to chair a Royal Commission on National Development in the Arts, Letters and Sciences. The Massey Report, completed in 1951, led to the creation of the National Library of Canada and the Canada Council for the Arts.
As the first Canadian Governor General, Massey travelled widely, promoting pride in Canada's geographic and cultural diversity. By establishing awards such as the Governor General's Awards for Architecture, he sought to encourage a new spirit of Canadian nationalism through excellence in cultural and scientific endeavours.
Note: A more complete biographical note on Vincent Massey can be accessed through the Governor General's web site following the tour.
[Return to the Reception Room | To the Ballroom]

Portrait of Vincent Massey
Artist: Lilias Torrance Newton
Production: Canada, circa 1959
Acquisition: Commissioned by the Government of Canada, date of presentation unknown