The Reception Room
Georges P. Vanier,
Governor General 1959-1967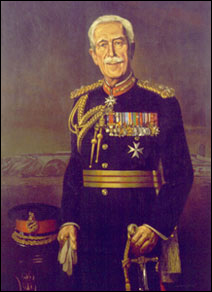 The Right Honourable Georges Philias Vanier (1888-1967) became Governor General of Canada on August 1, 1959, at the end of a distinguished career as a soldier and diplomat.
Although already in his 70s, General Vanier worked energetically, touring, speaking, meeting and encouraging Canadians from all walks of life. His commitment was rooted in a deep and abiding religious faith. "If God wants me to do this job, He will give me the strength to do it," he said.
Both he and his wife, Pauline, were champions of disadvantaged persons, of youth, and of the family. Their concern led to the establishment of the Vanier Institute of the Family. They were also deeply committed to the cause of Canadian unity.
Governor General Vanier died in office, on March 5, 1967.
Note: A more complete biographical note on Georges Vanier can be accessed through the Governor General's web site following the tour.
[Return to the Reception Room | To the Ballroom]

Portrait of Georges P. Vanier
Artist: Charles Fraser Comfort
Production: Canada, 1967
Acquisition: Commissioned by the Government of Canada, date of presentation unknown