The Reception Room
Roland Michener,
Governor General 1967-1974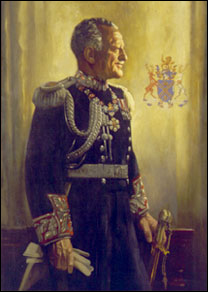 The Right Honourable Roland Michener (1900-1991) was born in Lacombe, Alberta. A Rhodes Scholar and a highly successful lawyer, he served as Speaker of the House of Commons from 1957-1962 and as Canada's High Commissioner to India from 1964-1967 before being appointed Governor General.
Canada celebrated the centennial of Confederation in 1967, and it seemed as if the whole world were coming to the party. On behalf of all Canadians, Roland Michener and his wife, Norah, received over 50 Heads of State and presided over hundreds of Centennial events. The innovative Governor General established the Order of Canada in that year as well.
Note: A more complete biographical note on Roland Michener can be accessed through the Governor General's web site following the tour.
[Return to the Reception Room | To the Ballroom]

Portrait of Roland Michener
Artist: Charles Fraser Comfort
Production: Canada, 1971-1972
Acquisition: Commissioned by the Government of Canada, date of presentation unknown