The Reception Room
Jules Léger,
Governor General 1974-1979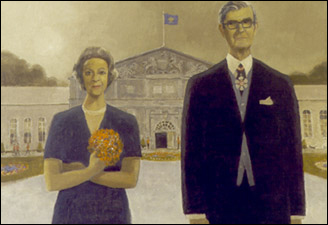 Like many of his predecessors, the Right Honourable Jules Léger (1913-1980) came to Rideau Hall after a distinguished career as a respected diplomat. At various times he served as Canada's Ambassador to Mexico, Italy, France, Belgium and Luxembourg and, for a time, was Under-Secretary of State for External Affairs.
While most Governors General have been ably supported by their spouses, the partnership of Jules and Gabrielle Léger stands out. Just six months after his swearing in, Governor General Léger suffered a stroke. Thereafter, Madame Léger helped him perform many of his official duties, including reading portions of the Speech from the Throne at the Opening of Parliament in 1976 and 1978.
Governor General Léger travelled extensively across Canada during his mandate, promoting national unity and harmony. He is remembered for his dignity, kindness and courage.
Note: A more complete biographical note on Jules Léger can be accessed through the Governor General's web site following the tour.
[Return to the Reception Room | To the Ballroom]

Portrait of Jules Léger
Artist: Jean Paul Lemieux
Production: Canada, 1977
Acquisition: Commissioned by the Government of Canada, date of presentation unknown