The Reception Room
Edward Schreyer,
Governor General 1979-1984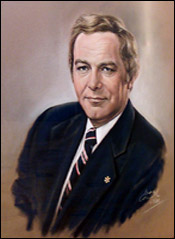 The Right Honourable Edward Schreyer (1935- ) was appointed Governor General in 1979. At the age of 43, he was the youngest person to hold the office since the appointment of the Marquess of Lorne, in 1878, and Lord Lansdowne, in 1883.
A native of Manitoba, Edward Schreyer enjoyed a successful political career, serving as Premier of his home province from 1969-1977. As Governor General, he increased public awareness of environmental issues and of the equality of women. He and his wife, Lily, also opened the grounds of Rideau Hall for the enjoyment of the public.
Following his term as Governor General, Mr. Schreyer was appointed High Commissioner to Australia. In recent years, he worked energetically with Habitat for Humanity.
Note: A more complete biographical note on Edward Schreyer can be accessed through the Governor General's web site following the tour.
[Return to the Reception Room | To the Ballroom]

Portrait of Edward Schreyer
Artist: Irma Coucill
Production: 1984
Acquisition: Commissioned by the Government of Canada, date of presentation unknown