The Reception Room
Jeanne Mathilde Sauvé,
Governor General 1984-1990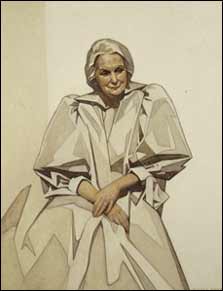 The career of the Right Honourable Jeanne Mathilde Sauvé (1922-1993), a francophone native of Saskatchewan, was marked by firsts. She was the first woman to be elected Speaker of the House of Commons and the first woman to serve as Governor General of Canada. Prior to her appointment, she was a respected broadcast journalist and sat for a number of years as a Member of Parliament, serving as Minister of State for Science and Technology and Minister of Communications, in addition to her term as Speaker.
Governor General Sauvé made special efforts to promote the interests of youth. Workplace safety and world peace were other issues that were particularly dear to her. She created awards for academic achievement, fair play in amateur sport, and women's field hockey. Prior to leaving office, she established the Jeanne Sauvé Youth Foundation. At the conclusion of her mandate, in 1990, she retired to Montreal where she died in 1993.
Note: A more complete biographical note on Jeanne Sauvé can be accessed through the Governor General's web site following the tour.
[Return to the Reception Room | To the Ballroom]

Portrait of Jeanne Mathilde Sauvé
Artist: Arthur Edward Cleeve Horne
Production: Canada, 1989-1990
Acquisition: Commissioned by the Government of Canada, date of presentation unknown