The Reception Room
Romeo Leblanc,
Governor General 1995-1999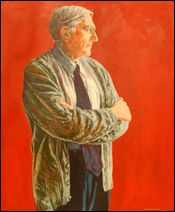 The Right Honourable Roméo LeBlanc was the first Canadian Governor General from the Maritimes. He was appointed to the position following a long and distinguished career of public service.
As Governor General, Roméo LeBlanc had a number of causes that were close to his heart. While not officially part of his duties, they shaped how he carried out his mandate. Through many of his speeches, Mr. LeBlanc brought more attention to voluntarism, the teaching of Canadian history, Aboriginal peoples, peacekeeping and the military. He strongly believed that Canada's greatness as a country comes from its citizens and launched a new award–the Governor General's Caring Canadian Award–to recognize the everyday courage and dedication of ordinary people who have made extraordinary contributions to their families, communities or country. He also placed great importance on the role of Aboriginal people in Canada and advocated an attitude of generosity to help heal the problems between Native peoples and non-Native peoples at home. Mr. LeBlanc proclaimed National Aboriginal Day, June 21, to recognize Aboriginal people, their culture, their history and how they helped build our country.
Note: You can consult a complete biographical note on Roméo LeBlanc on the Governor General's web site.
[Return to the Reception Room | To the Ballroom]

Portrait of Romeo Leblanc
Artist: Christan Nicholson
Production: 2002
Acquisition: Commissioned by the National Capital Commission, unveiled at Rideau Hall on February 20, 2003