The Reception Room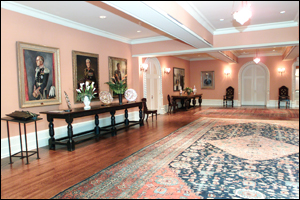 The Reception Room is a part of the original villa built by Thomas MacKay in 1838. Today, guests attending ceremonial events in the Ballroom are received here.
Smaller official ceremonies often take place in the Reception Room as well. The Order of Canada may be presented here on occasions when there is just one recipient, such as hockey great Wayne Gretzky or singer Roch Voisine.
The paintings on the walls portray Canadian Governors General. In 1952, Vincent Massey became the first Canadian to hold the office. Since then, all his successors have been Canadians.
As you explore the room, click on each portrait to learn more about these citizens who served Canada with idealism and distinction.
Click here to view the QuickTime virtual panorama.