Family Activities
Meet at the Visitor Centre to participate in family activities and enjoy the nearby play structure.
Follow the Tell-a-Tale Trail
This treasure hunt is designed to challenge young and old with a quest for secret words along the trail. Fun and educational for the whole family. Ask for your brochure upon arrival on-site.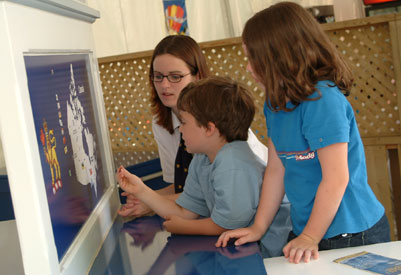 Heraldry and National Symbols
Discover Canadian heraldic art from yesterday and today. Imagine yourself back in the days of knighthood and create your own coats of arms with symbols from your family heritage of your hometown.
Time out for art

Participate in the revival of painting by creating your own work of art after your visit of our summer exhibition, Musée d'art contemporain de Montréal at Rideau Hall.
July 1rst to September 3rd, daily, 10 a.m. to 4 p.m