Guides at Rideau Hall
Are you looking for a unique challenge? Working as a guide-interpreter at Rideau Hall is an exciting and rewarding experience.
Rideau Hall has been the official Ottawa residence and workplace of every governor general of Canada since Confederation. As a guide-interpreter, you will be one of Rideau Hall's front-line ambassadors, and with your colleagues, you will greet up to 200,000 visitors, from members of royal families and heads of State to school children and tourists.
You will interpret the five majestic State rooms of Rideau Hall in both official languages.
Qualifications
To become a Rideau Hall guide-interpreter, you must be a Canadian citizen and bilingual (French and English). A good knowledge of Canadian history is an asset, as is experience in historical interpretation for groups including children and the general public.
How to Apply
If you are a full-time student, please visit the Federal Student Work Experience Program at http://www.jobs-emplois.gc.ca/srp-fswep-pfete/index_e.htm. Please go to the Office of the Secretary to the Governor General and select the Rideau Hall Visitor Services and Interpretation Program (GGS07J-008868-000121). The selection process begins on January 16, 2009. The candidates who have been pre-selected will be invited to attend an interview in February 2009.
Only those eligible for an interview will be contacted.
A language proficiency test will be administered during the selection process.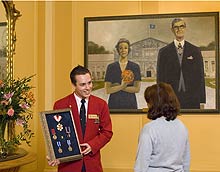 "I feel privileged to have been able to surround myself with Canada's past, present and future. I couldn't imagine a more fulfilling summer job than working here at Rideau Hall, Canada's house-it has truly filled this already fiercely proud Canadian with even more delight in her wonderful country."
— Caitlin Hurcomb, Ottawa, Ontario, Guide-interpreter, 2007
"It was an exciting challenge to work at an institution at the heart of Canadian history alongside dedicated colleagues and visitors from all across the country and around the world. I have grown from this experience and leave it feeling very proud of having made new friends and gained a broader perspective on the world."
— Marie-Pierre Bélanger, Earlton, Ontario, Guide-interpreter, 2008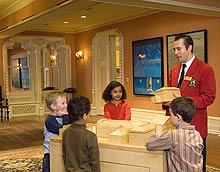 "Working at Rideau Hall is a wonderfully well-rounded work experience, one which those who have the good fortune of partaking in, will never forget! Rideau Hall truly is the home for all Canadians…a place to grow in so many ways!"
— Aamir Taiyeb, Mississauga, Ontario, Guide-interpreter, 2007
"My summer at Rideau Hall was a unique way to learn more about people, history, art, and even Canadian botany! But the best part was sharing this new-found knowledge with visitors from all across Canada and the world."
— Nina Charest, Ottawa, Ontario, Guide-interpreter, 2008
Come join our dynamic and fabulous team! Apply today!