Summer at Rideau Hall
Rideau Hall has been the official residence and workplace of every Governor General since 1867. This enchanting site, situated in a lush historic landscape, is located only few minutes from downtown Ottawa.
Coming to Rideau Hall? Whether you have only a few hours to take in the sights at Rideau Hall or you're planning to spend the entire day, whether you're bringing your family or visiting on your own, we have a variety of free activities that are sure to make your time with us memorable.
The essentials
Rideau Hall has long been a national gathering place and receives thousands of visitors every year. Come and see the state rooms, where important moments in Canadians history have been taking place since Confederation.
Stroll around the grounds and see, among other things, the hundreds of commemorative trees planted by visiting heads of State and members of the Royal Family.
Visitor Centre and Gift Shop
Start your visit at the Visitor and Interpretation Centre located near the Sussex Gate. You will find there an exhibit on the role of the Governor General and a Gift Shop for special Canadian souvenirs.
May 15 to September 7: daily, 9 a.m. to 5 p.m.
September 8 to October 25: daily, 9 a.m. to 4 p.m.
Relief of the Sentries
In this much-loved ceremony, sentries of the Ceremonial Guard, led by a piper, march to their posts at Sussex Gate and in front of the residence.
June 27 to August 27: daily, on the hour, 9 a.m. to 5 p.m.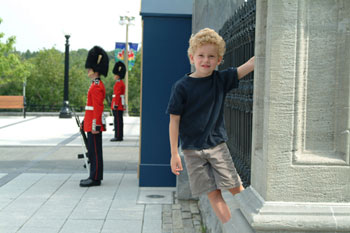 Family Activities
Meet at the Visitor Centre to participate in family activities and enjoy the nearby play structure.
Follow the Tell-a-Tale Trail
This treasure hunt is designed to challenge young and old with a quest for secret words along the trail. Fun and educational for the whole family. Ask for your brochure upon arrival on-site.
Brochure available daily, until September 7
Heraldry and National Symbols
Discover Canadian heraldic art from yesterday and today. Imagine yourself back in the days of knighthood and create your own coats of arms with symbols from your family heritage of your hometown.
Until September 7: Saturdays and Sundays from 11 a.m. to 2: p.m.
Useful information
Free admission to all tours and activities.
The grounds are open daily from 8 a.m. to one hour before sunset.
Scheduling for all activities is subject to change without notice due to official events.
Rideau Hall is fully accessible for the mobility impaired; wheelchairs are available on-site.
Picnic tables, play structures and washroom facilities are available on-site.
Street parking is available in surrounding areas.
Rideau Hall is a working residence and official events may require unforeseen changes to your visit.