Rideau Hall Cricket Association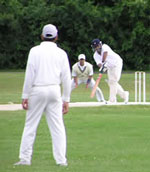 Playing cricket on the grounds of Rideau Hall is a tradition that goes back to the time of Lord Monk when the cricket pitch was first laid out in the fall of 1866. The tradition continues today with members of the "Rideau Hall Cricket Association and Ottawa Valley Cricket Council", of which the Governor General is patron, playing matches here at Rideau Hall during summer weekends.
Rideau Hall is a working residence and official events may require unforeseen changes to your visit.