Grounds Tours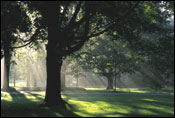 At Rideau Hall, the grounds speak to you, telling a dramatic story that is a unique part of Canada's history. Their evolution and their design reflect a very Canadian environment.
Originally, they were styled as English country estate with luxurious lawns surrounded by gardens and walking paths through nearby forests. More than 10,000 trees provide summer shade and year-round beauty. Look for an inukshuk and totem pole, enjoy a picnic on the grounds, take in a cricket match — there's much to do. The Canadian Heritage Gardens, a sweeping arc of roses that symbolizes Canada's cultural mosaic, is the latest addition to the grounds.
There are two ways to discover Rideau Hall's grounds:
Take a guided tour with one of our interpreter
Pick up a self-guided tour brochure at the entrance, follow the interpretive panels along the paths and explore at your leisure.
Opening hours of the grounds:
From 8 a.m. until one hour before sunset
Guided tour schedule:
September to June, 9 a.m. to 4 p.m., by reservation only. Please call (613) 991-4422 or 1-866-842-4422.
Rideau Hall is a working residence and official events may require unforeseen changes to your visit.