Tours of the residence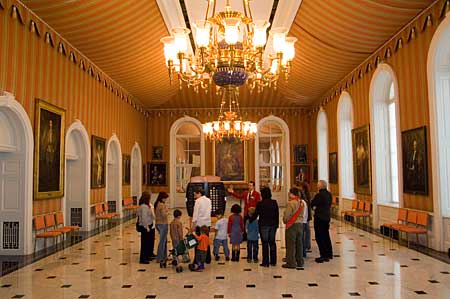 Walk through Canada's history at Rideau Hall, historic residence and workplace of the Governor General. Visit the ceremonial rooms where Canadians are honoured and dignitaries welcomed. Discover the exhibit DIASPORArt. Click here to learn more about this exhibition.
Guided tours are free and last 45 minutes.
Schedule for the 2009 Public Tours of the Residence
January to April: by reservation only
May 2 to June 28 : Saturdays and Sundays from 10 a.m. to 4 p.m.
June 29 to September 7: Daily, from 10 a.m. to 4 p.m.
September 8 to October 25: Saturdays and Sundays from 12 noon to 4 p.m.
Tours are offered on statutory holidays from May to October.
At all other times during the year, please reserve by calling us
at 1-866-842-4422.
Rideau Hall is a working residence and official events may require unforeseen changes to your visit.